Adding an area rug in your dining room will not only add comfort and style but also make your space visually appealing. Other than the style, color, and pattern, there are other factors you should pay attention to when looking to buy an area rug for your living room.
Below are various tips that can help you choose the best area rug for your dining room:
Arrange your dining room furniture the same way you wish to arrange it after you place the area rug
Before you make an initiative to go out and buy an area rug for your dining room, first arrange your room neatly. Make sure every piece of furniture is placed specifically the same way you want it to be placed. It will greatly help you to know the exact measurements needed for your rug space. Make sure that the rug does not get caught below the dining table or any other piece of furniture
Take measurements of your room
For you to choose the right size of the rug, you should carefully measure the area of your room that you wish to be covered with it. It will help you buy an area rug with the suitable size for chairs to easily slide in and out without a hassle. A too-small area rug will trip up the chairs and it is not a comfortable feeling so choosing a rug of the right size should be amongst your top priorities. To avoid tripping over the rug, leave at least 24 inches of extra space on all the corners of the dining table for people to pull out chairs with comfort.
Leave enough space for your room
As you take the measurements of your room, make sure you leave around 30 inches of space from the wall around the room, uncovered. This trick makes your room look larger while at the same time showcasing the elegance of your room. It also ensures that your floor radiator and floor register are not covered.
Decide on the correct pattern and color
When deciding on the color and design, choose a rug with an even design as this will make sure that your eyes don't dwell on just the center or the edge of the rug. A rug with small patterns will make your dining room appear bigger and feel more spacious. Moreover, choosing the right pattern and color can make a huge difference by changing the whole view of the room. If the color of your table is shiny, then a bold area rug color is advisable.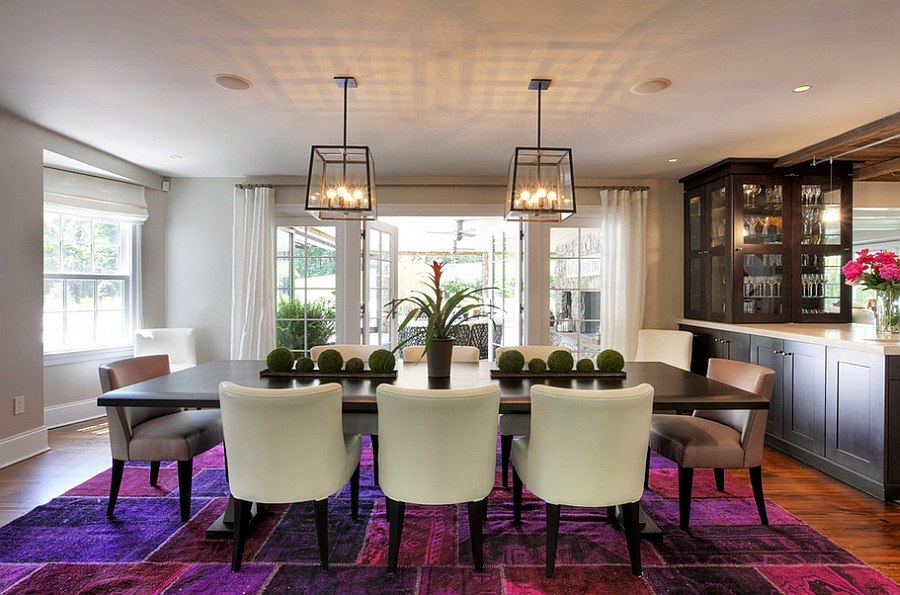 Lastly, if you want an enticing feeling, consider layering soft animal area rugs to create the cushioned feeling beneath your feet. It would add softness and texture to your floor.
An Area Rug with a soft fabric
When an area rug is too knobby, it makes it difficult to move chairs and furniture around. It can make the room uncomfortable and that's why you're not advised to use knobby area rugs in your living room. Synthetic machine made area rugs are the best option for dining rooms because chairs can easily slide on them.
You don't have to pay a lot for you to enjoy a comfortable and beautiful environment. All you have to do is simply give this soft piece of furnishing a chance to light up your room.